I DO NOT spam or sell your information.
I DO send you cool shit from time to time.
Are you struggling to start up or scale up your business? Dropping Bombs is for entrepreneurs like you! From pushing boundaries to solving problems, this free podcast is a go-to resource for anyone willing to hustle and grind.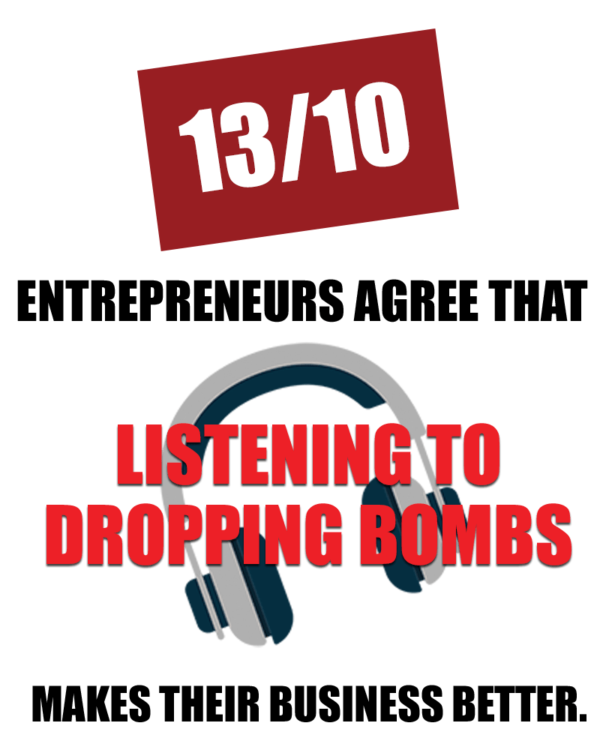 THE LATEST EPISODE OF DROPPING BOMBS: THE TOP PODCAST FOR ENTREPRENEURS
Top Rated Dropping Bombs Podcasts
CEO, Entrepreneur, Host of The Dropping Bombs Podcast and the Creator of The Bottom Line
People call Brad "The Real Brad Lea" because he keeps it real no matter what. He is a successful businessman and philanthropist. He is best known as the founder and CEO of LightSpeed VT, a global leader in web-based training and communication platforms with headquarters in Las Vegas, NV. Brad is continually striving to enhance the technology to better serve his clients.
Engaging, authentic and dynamic, Brad is passionate about helping people succeed. In fact, he's created the Dropping Bombs podcast to help people succeed in Life and in Business.
He's dropping bombs on a wide-range of topics that educate, inspire and deliver results. Brad's bombs are explosive strategies you can leverage to obliterate any obstacle getting in the way of your personal or business success. Listen to the Official Brad Lea Podcast for exclusive content, success strategies rooted in real-life experiences and stories from the front lines. Brad's dropping bombs. Listen up or run for cover!.
Build Your Business One Hour at a Time
Covering topics from finances and personal branding to finding success in the face of adversity, Dropping Bombs is a must-listen for every entrepreneur.
Host Brad Lea thrives on creating free-flowing conversations with entrepreneurs and industry leaders alike. With his no BS-style, guests such as Daymond John, Tim Grover, and Matt Manero open up to offer the kind of candid advice needed to reach new heights.